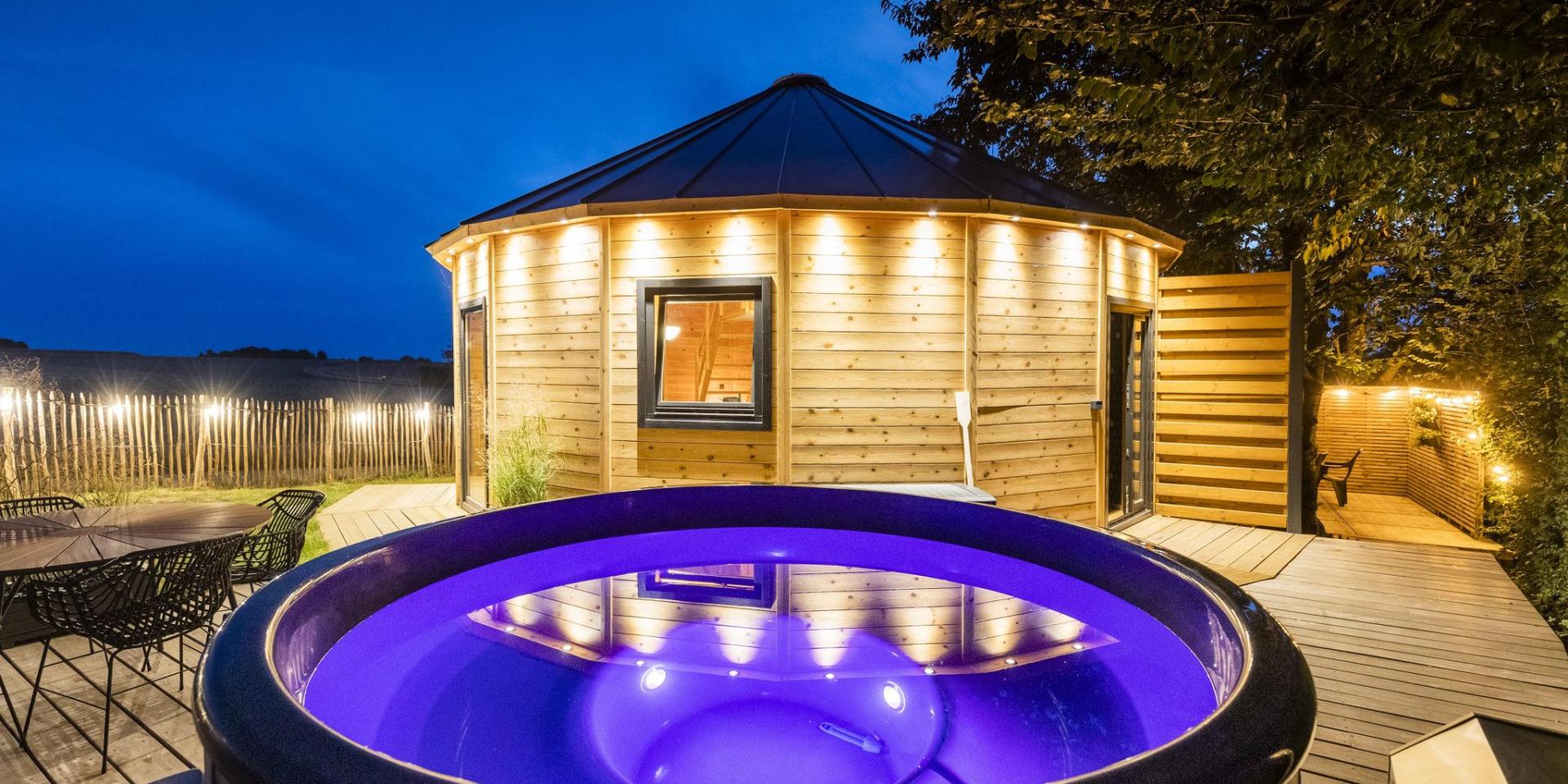 Scandin'havre
contemporary yurt and wellness


Located in the heart of the Hesbignian countryside, just a 10-minute drive from the center of Hannut, this modern wooden yurt welcomes you with family or friends (up to 4 people) in a natural and relaxing setting.
Here, everything is designed to make you feel good, Scandinavian-style. A perfect place for people looking for calm, rest, who want to relax (thanks to the outdoor Wellness), and who simply want to have a good time!
The yurt
Scandinavian calm and serenity
Scandin'havre is just a stone's throw from Hannut, at the end of a dead-end road in the pretty village of Merdorp. Around the yurt, meadows and fields as far as the eye can see, there's no doubt about it, we'll feel right at home here.
Once through the small garden gate, we discover perfectly landscaped outdoor areas, inviting us to relax… But before we take a look around, we'd prefer to enter the yurt! Built of wood, it offers comfortable living space for 4 people.
The Scandinavian decor creates a feeling of serenity, right from the start. First we discover the kitchen, perfectly equipped, and the cosy little living room, with its wood-burning stove. Winter evenings must be pleasant here! Upstairs, you can already see the first mezzanine bedroom, with its dome opening onto the sky. Brightness and starry nights guaranteed! We're already looking forward to seeing the shooting stars pass by…
On the first floor, you'll also find the bamboo bathroom, equipped with a vast walk-in shower, as well as the second bedroom (double bed or king-size bed, it's up to you – just ask before you arrive)
.



Nordic bath and sauna
nature and relaxation


After getting our bearings in the yurt, choosing our room (the question doesn't even arise, we'll be sleeping upstairs under the dome), it's time to put on our swimsuits to enjoy the outdoor Wellness.
The Nordic bath has been kindly heated by our hosts before our arrival and is at just the right temperature… It's a blast! We bask for a few moments under the stars before making our way to the barrel sauna, also heated over a wood fire. A Finnish tradition, the barrel sauna is synonymous with relaxation. After a good night's sleep, we awoke to sunshine and birdsong. We loved this relaxing break in Terres-de-Meuse, in the heart of the Hesbaye! Staying in the Scandin'havre yurt is like entering a cocoon in the heart of the Hesbaye, for a nature getaway, far from the stresses of everyday life.
Magical immersion
in Terres-de-Meuse