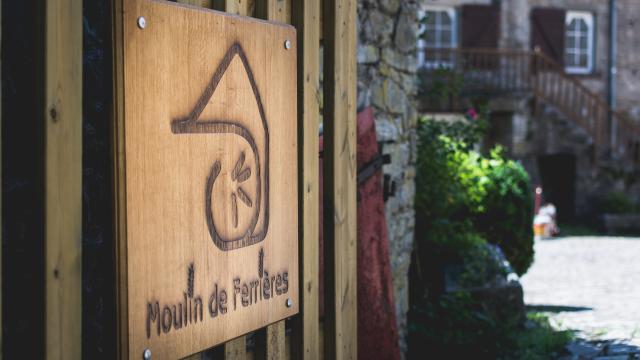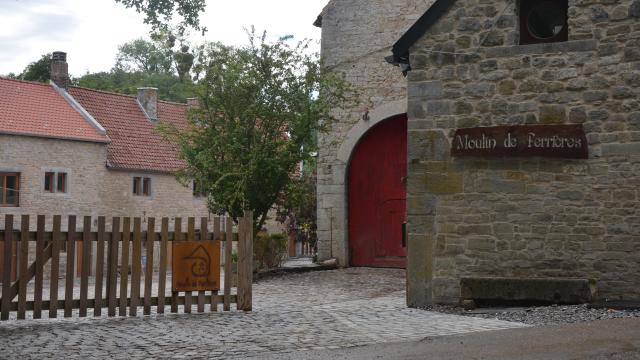 In the Terres-de-Meuse region, the Moulin Ferrières offers a warm welcome in an enchanting natural setting. Bordered by its wood and orchard, the Mill and its milling facility have been restored to accommodate a tourist reception point, a bakery and a brand-new gîte. It's also the ideal starting point for exploring the Burdinale-Mehaigne Nature Park.
An authentic place steeped in history
It doesn't sound like it, but there are plenty of nature spots in Terres-de-Meuse… There are a few rejuvenating, authentic places in which to disconnect and enjoy. Moulin Ferrières is one of them! In fact, you'll realize it from the very first moment you arrive (there's no network here, and that's a good thing!) Despite its proximity to the E42 freeway, the Moulin seems to be nestled between woods and orchards, gently skirted by the Fosseroule river. Or the Lavoir stream? We don't know exactly, it has to be said that the stream changes name along the way, before joining the Mehaigne a little further on at Moha.
The place is historic: most of the elements that make up this architectural ensemble date back to the first half of the 18th century. But the origins of the mill go back much further, with its first mention dating back to 1424!


Le Grenier du Moulin,
a comfortable gîte in the heart of the orchards
Arriving on site, I'm greeted warmly by Marie. We walk through the pretty courtyard, past the newly-restarted wheel, and on to the gîte: "Le Grenier du Moulin". This has recently been renovated to accommodate up to 6 people. Benjamin Paillhe, an artisan-designer from Restore Design (one of Liège's best-known recycled decor boutiques), was in charge of restoring and decorating the premises.
As soon as I enter, I fall under the spell of the place. The large living room with its exposed beams houses a fully-equipped kitchen, the dining room and a lounge (with an enoooormous TV for great movie nights). 2 Léopold 7 beers and spelt flour cookies are on the table to put me straight in the mood.
The gîte benefits from all modern comforts and equipment. 3 spacious bedrooms with twin beds and a bathroom with washing machine and tumble dryer. Bed linen and towels are provided. In the living room, documentation on the region, games and books are available, everything is thought out for a pleasant stay.
All the furniture is signed Restore Design, you can recognize the recycled wood light fittings straight away.




A starting point for many walks and activities!
Over 70 km of trails have been marked in the Héron commune. A total of 6 circuits link the small villages of the commune. L'accueil touristique du Moulin Ferrières also offers bikes for hire: electric-assist bikes and mountain bikes.
Magical immersion
in Terres-de-Meuse